Silver River - Gift Card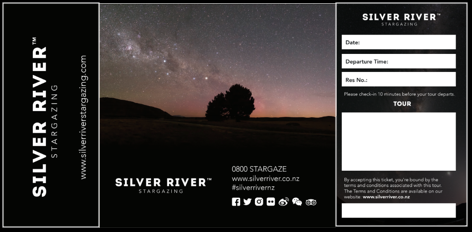 Location: Lake Tekapo, Mackenzie District
Product code: SR-GC
This gift card can be used for any Silver River Stargazing or Astrophotography tours.
Silver River™ Stargazing is Tekapo's leading dark sky small group 360° stargazing tour.
Are you ready to have your mind blown? Don't say we didn't warn you. Come and discover the wonders of the night sky on our 75- minute experience; including 60 mins under the stars with one of our epic guides. We use powerful 14" telescopes and special astro-lasers for easy naked-eye viewing. After we take you on a journey through our night sky, your awesome guide will take a photo of your group under the stars, capturing that picture-perfect moment. And our gift to you! Within 48 hours we will upload your photo onto our public Flickr website and then email you a link to download your digital copy of your photo so you can share with your family and friends, and of course on social media.
But wait, we're not done. The perks of our tours keep on coming! Our ratio of telescopes to guests is tiny; one of the lowest in the Tekapo region. Meaning, everyone will have plenty of time on the telescopes with your guide to ensure your questions are answered. Have kids? AWESOME. We are super passionate about showing the night sky with the kiddos (any age can join our tours including infants).
P.S. Our stargazing locations are super dark, with the least light pollution in Tekapo. We're pretty pumped to be located in the gold rated Aoraki Mackenzie International Dark Sky Reserve (big kid words for some of the darkest skies in the WORLD. No biggie.) and be able to share it with you.
Get involved in a world class astrophotography experience! Developed by the legend himself, astrophotographer Fraser Gunn has put together a tour that is out of this world. Pun intended!
The location of our astrophotography tour is truly stunning. Get ready for pure darkness and incredible 360° views over 50,000-acres of farmland nestled in the gold-rated Aoraki Mackenzie International Dark Sky Reserve. This tour is pure magic if you are wanting to learn or extend your astrophotography skills.

Learn how to take jaw dropping pictures using our telescopes and digital cameras or even better bring along your own camera and if we can use it we will. Tours will be customised depending on the weather and what you want to learn. This could include wide-angle imagery of the night sky, imagery of the Milky Way or constellations, capturing star trails or night-time lapse animations and to top it all off we will also help you process the images post-capture!

Our fully guided 3.5-hour experience departs nightly with a maximum of 4 adults. This tour is downright essential if you want to sharpen your astrophotography skills and is suitable for beginners through to advanced.